Came home from work to my roommate watching Star Trek: Next Generation. So I end up watching as well, while pestering with questions about what on earth is going on. As part of the plot these ugly, snake-like aliens are introduced called Cardassians, which I keep hearing as Kardashians. On googling this amusing comparison I found that I'm not the only one who noticed it.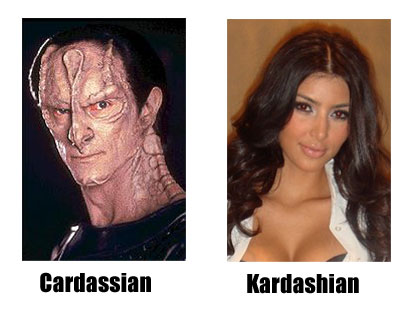 On the website 'Overthinking It' they used this picture for a very nerdy article on whether or not Cardassian females have nipples.... I'm going to assume yes based on evidence provided by their earth representatives the Kardashian sisters.
"Cardassians are snake-like in every sense of the word. They are manipulative, with metaphorical "forked-tongues." They have scaly skin. They like the dark and love moisture. One of their favorite pastimes involves sitting on piping hot rocks, possibly to raise their body temperature."
I'm probably just being bitchy, but comparing the two does make me giggle.